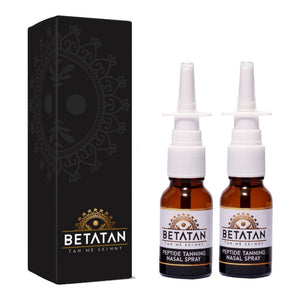 NEW FORMULA
this product has been re -formulated to offer improved results 
you will notice a new smell with this product 
This product is now able to travel 30 days out of refrigeration .
This means the travel time to  you doesn't degrade the product anymore . Now you to can travel safely with the product without the need to keep it refridgerated. The shelf life and potency of this product has been improved  
Betatan dual pack nasal offers clients a 15% discount!!! Betatan dual pack nasal is the most popular and most convenient system of the series to use. This pack could last you an entire season.
BETATAN  offers:
Sunless tanning (requires more product use )
Ability to stay in the sun longer without burning 
Reduces appetiteLarge doses will cause nausea 
larges doses will cause nausea